Log Cargo Handling Safety Latch (Site Weld NZ Ltd safety latch)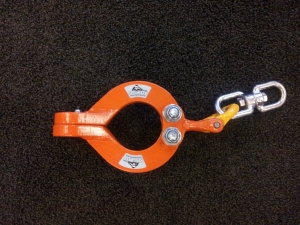 Safety Latches are a simple but ingenious system that has won a CILT Awards (The Chartered Institute of Logistics and Transport in New Zealand Inc.) safety award in 2013. These safety latches allow the log cargo handler to wrap the wire lifting strops around the heave (bunch of logs) and then hook onto the lifting monkey allowing the cargo handler to walk away without holding the wires in place as the weight comes on the crane.
Previously the handlers had to hold the wires as the weight came on causing fingers to be squashed or dismembered – this is a not just a local Health and Safety issue but an international problem that was causing serious harm incidents weekly.
Contact us
with any enquiries.